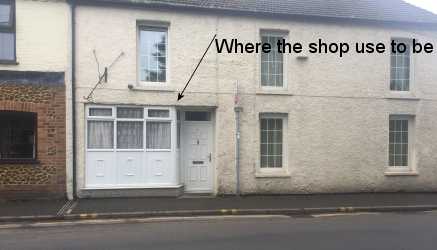 Mary E Elliot and Augustus Elliot were sister and brother living in Duddington Lincolnshire. In about 1880 they moved to Heacham and set up the antique shop in the old butcher's shop in Lynn Road, Heacham near Cannon Corner. In 1898 George Robinson came to Heacham on his honeymoon. George was the nephew of Augustus. The photo at the top of the page records this event. It shows Augustus and Mary on the left in the doorway, George and his wife on the right. The boy on the right Austin had a brother who became a vicar and he performed the marriage of Peter and Pat Robinson in Norwich in 1966.
George Robinson was Peter Robinson's grandfather. George came to Heacham in about 1904/06 to help his uncle. He took over the business when Augustus died soon afterwards.
George's son, Sydney Robinson was born in 1900 and he came into the business when he came back from the Air Force in 1919. Sydney married a local girl, Louise Plumb of Beach Farm in 1927 and their son Peter was born in 1934.
Peter joined the business on leaving school in 1950, unfortunately Sydney died in 1951.
Peter married Pat Suffling in 1966 and they have two daughters who are now living in Tunbridge Wells and Sheffield, they have one grandson.
While Peter ran the antique shop Pat was well known for her cakes and pies which were sold on the premises (I remember going every week for one of her delicious apple pies). Peter retired in 2004.