In

May 1939

,

A E. WALLIS

was

started by Arthur E Wallis after taking over a business, in what is now 40 High St, from Reg Stainsby, who wanted to concentrate on his Garage business on the Main Rd.

In

Sept

ember

1939 War

was

declared. However Arthur continued to run the shop until 1941 when he went into the RAF serving mainly in the Middle East until 1946. Arthur's family ran the business while he was away. At the end of the war Arthur returned to take up the reins of the business again.
In 1946/47 Arthur took on the shop next door number 38 High Street.
Televisions became increasingly popular and there was a big boost of sales for the 1953 Coronation. A further boost to sales came when in 1964 colour television was available.
In 1981 Arthur

was

taken ill so John and Richard start running the business.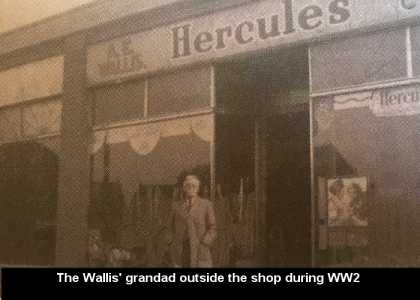 1987 The Cycle shop was moved to the original Barclays Bank building in No 4 High St now the SureFoot clinic, and the TV/ Electrical shop was expanded to use both of the shops next to the Post Office.
1990 John and Richard purchased 36 High St, formerly Cruso and Wilkins Estate Agents, and the cycle shop returned to be beside the televison/electrical shop.
In 1998 Arthur passed away.
In 2000 John and Richard purchased 34 High St, formerly Fleurtique, expanding both cycle and televison/electrical shops.
2019 and A.E. Wallis celebrates 80 years in business.